Tibet is a historical region covering much of the Tibetan Plateau in Central Asia. It is the traditional homeland of the Tibetan people as well as some other ethnic groups such as Monpa, Qiang, and Lhoba peoples and is now also inhabited by considerable numbers of Han Chinese and Hui people. Tibet is the highest region on Earth, with an average elevation of 4,900 metres (16,000 ft). The highest elevation in Tibet is Mount Everest, Earth's highest mountain, rising 8,848 m (29,029 ft) above sea level.
Tibet Travel Info:
Tibet is a sacred and mysterious land, inhabited by an ever smiling people. It is extreme remoteness and isolation imposed by the most Himalayas ranges, render it a unique world of timeless splendor, tradition and breathtaking scenery. Lhasa City, Mt. Kailash and Manasarovar Lake are just some of highlights of this region. We provide a number of tours/treks to Tibet, including overland, adventure and Hindu & Buddhist pilgrimage tours.
Travel permit for Tibet
Along with the visa, a tourist needs to get a travel permit to enter and travel in Tibet. Provided by the Tibet tourism board (TTB) this permit is also known as TTB permit. The TTB cost varies depending upon your departure city and this permit does not have an expiry date. You will not need a permit to leave the Tibet but you will have to get a permit to enter certain cities of Tibet, which can be easily arranged by your Travel Agency. You will also need a permit if you wish to go to the Everest Base Camp. To apply for the TTB permit you will need a passport that is valid for at least six month with a Chinese Visa on it. There are actually two kind of permit issued for traveling in Tibet. The TTB permit, which is an equivalent of a visa for Tibet and the Alien Travel Permit i.e. PSB permit (Public Security Bureau permit).
Tibet Travel Permit
You will need this permit when you fly in the Lhasa or even the purchases of the Lhasa Ticket from any other place require the TTB permit. Any groups travelling by land also need this ticket. Your travel agency arranging trips will be arranging this permit for you.
When to visit Tibet
Scheduling the Tibet tour can depend on few factors. It's totally upon your interest when you want to visit this magnificent place but you will want to be there when the place can offer you its best. Mainly Tibet tours can be arranged as per the weather of the place or according to the festive season of the Tibet. Best time to visit Tibet is in the summer or the early winter – from April to November. The place will be very cold in the winters so tourists generally like to visit Tibet in the summer. Summers are cool and generally dry and suit the activities like cycling, trekking, hiking and rafting. Though Tibet receives only 450 milliliter of rain or snow per year summer will be able to present you enough greenery in the summer. Many trekking routes like Kailash-Mansarovar along with other routes will be able to present an unmatchable beauty to you in the summer. If you are planning to take your family to spend a vacation in Tibet then you are suggested to be there between April and October. Sunlight will be warm and cozy and many festivals fall within this time line. Tibet is open all around the calendar and one can visit Tibet any time they want. Those who are free in the early winters and are eager to explore Tibet in free time are suggested to visit Tibet in the early winters. The tourist rush will be at the lowest and you will get the full opportunity to explore this beautiful place. No matter when you visit Tibet few things must be paid heed to. Since Tibet is in very high altitude sir is thin, which neither blocks the intensity of sun nor holds its warmth. Temperature varies greatly and one should be prepared for it. Within the very day temperature can go up to 29 degrees and fall down to 4 degrees. There is another way you can plan your vacation to Tibet-according to the festive seasons. All around the calendar there will be some Tibetan festival going on and one can take full joy of participating it. Tibetan people are very welcoming and are happy to include you in their celebration. From February to September there are many festivals tourist can enjoy in Tibet. Tibetan New Year, The Great Prayer Festival (Monlam), Butter Oil Lantern Festival, Saga Dawa Festival, Buddha Unfolding Festival, Yalong Cultural Festival, Paying Homage To The Holy Mountain Festival and many more.
TEMPERATURE & CLOTHING
Average temperature in Tibet during the month of April through September remains 5-20 degree Celsius. However, the night temperatures in the mountains during trekking often falls below freezing. Hence, adequate warm clothing will be required throughout. It is best to dress in layers that can be easily put on & off as required. Snow or rain can also occur sometimes.
Clothing & accessories recommended:

Thermal underwear, woolen or silk long sleeve tops & bottoms

Woolen shirts, pullover, pants, socks, hat, gloves & scarves

Down jacket or wind breaker

Good walking boots or shoes

Sun hat, sun glass, suntan lotion, torch light, pen knife

Medicine for common colds, headache, diarrhea & diamox for altitude sickness

High altitude sickness in Tibet
High altitude sickness or mountain sickness or acute mountain sickness (AMS) is a common problem in a high altitude place like Tibet. When you fly from Kathmandu to Lhasa you will ascend from height of 1300m to 3650m/ in this altitude the amount of oxygen is pretty low, the atmospheric pressure in low too and your body responds to these condition- this condition is called high altitude sickness. Most of the visitors visiting first time to Tibet are worried by this high altitude sickness due the lack of the knowledge that their body takes measures to survive in the low amount of oxygen and low atmospheric pressure. Acclimatization of body to the high altitude can take from just a few hours to few days. Symptoms tend to be worse at night and include headache, dizziness, and lethargy, loss of appetite, nausea, breathlessness and irritability. Difficulty sleeping is another common symptom, and many travelers have trouble sleeping for the first few days after arriving in Lhasa.
Insurance;
All participants are requested to provide for their own insurance that adequately covers against illness, natural calamities, political instability, emergency rescue charges or any other eventualities that may occur during the course of their trip.
 Food
All the tours in Tibet with bed and breakfast basis and treks are will all meals. Your choice food purely vegetarian & prepared by our staffs will be served throughout. Meals will in general be hot breakfast & wholesome dinner. Lunch usually is light & consist of box lunch. Tea & cold drinks will be served intermittently throughout.
Tour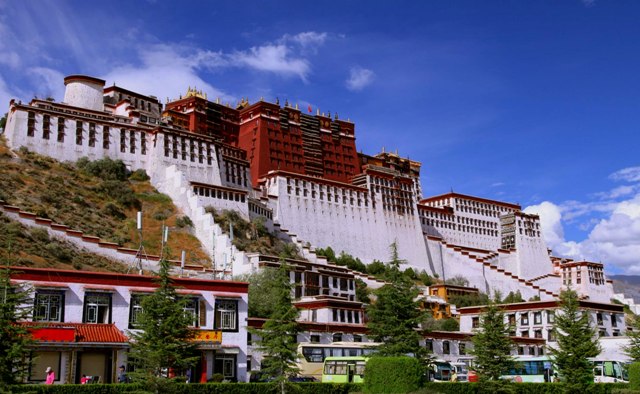 Tibet is a sacred and mysterious land, inhabited by an ever smiling people. It is extreme remoteness and isolation, imposed by the most Himalayas ranges,...
Available through out the year:
Jan
Feb
Mar
Apr
May
Jun
Jul
Aug
Sep
Oct
Nov
Dec
Lhasa is the cultural and religious heart of Tibet. Lhasa is home to Tibet's most famous and holiest temples. Each day, thousands of pilgrims prostrate...
Available through out the year:
Jan
Feb
Mar
Apr
May
Jun
Jul
Aug
Sep
Oct
Nov
Dec